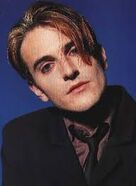 Johnny Dean (born 1971) is an accomplished British musician, front man and iconic pin-up of the '90s Britpop era. He was one of the founders of the band Menswear (1994-1998) together with Stuart Black and of the band Messiah, which he again founded with Stuart Black and which lasted until 2000.
He was diagnosed with autism in 2009 at 38. The diagnosis shed light on his life as before that he was often considered (in his own words) "antisocial, mean or aloof" because people did not understand him.
He is now an autism advocate and has campaigned for the National Autistic Society.
Read more about this icon on his Wikipedia page.