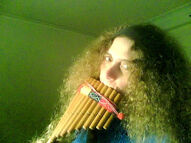 Marie Faverio is an Australian award-winning Renaissance lady with Asperger's Syndrome. She writes beautiful poems, aphorisms, short stories and puzzles (her puzzles have also been used in the Cerebrals Cognitive Ability Tests and in contests of the Ludomind Society) as well as research books on various subjects (astronomy, poetry, philosophy, literature) and is also an accomplished self-taught, regularly exhibited artist and musician and the "Artist in Residence" of
this site
. She graduated with honors in languages and educational sciences, is included in
Who's Who of Australian Women
, has received a letter of congratulations from a Member of Parliament
and is often considered a modern Hypatia for her multiple talents. She speaks several languages (and has invented her own secret language) and has a proven very high IQ.
[1]
Marie is also one of the winners of the 2017 Autism Hall of Fame Genius Award as well as the 2018 Donna Williams Bravery Award (see the Autism Hall of Fame blog for details) and is included on this list of
Great Women of Our Time
.
Here
is a recent interview with Marie. She has currently withdrawn from the world and most Internet activities due to multiple health problems. Her manager currently handles her correspondence and her affairs. Read more about the accomplishments and many publications of this extraordinary lady on
her website
.
----------------------------------------------------------------------------------------------------------------------------------------
↑ She is a full member of Ultranet and the Platinum Society, both of which require an IQ higher than 164 for admission. Marie is also a Diplomate of the International Society for Philosophical Enquiry (as the only lady in Australia), where she won a poetry contest in 2008 and where she also worked as the poetry editor, as well as a member of many other groups (including the Poetic Genius Society, Intertel and the Triple Nine Society). She is also an honorary member of the Pars Society, which requires an IQ>180. While she prefers not to actively participate herself anymore due to her health issues, her manager occasionally still sends a few groups contributions to their journals on her behalf. Marie is also the founder of the prestigious Order of Royal Creative Contemplation.